Invent something catchy and cruel that kills these little bastards. Also it has to ward off the replacements.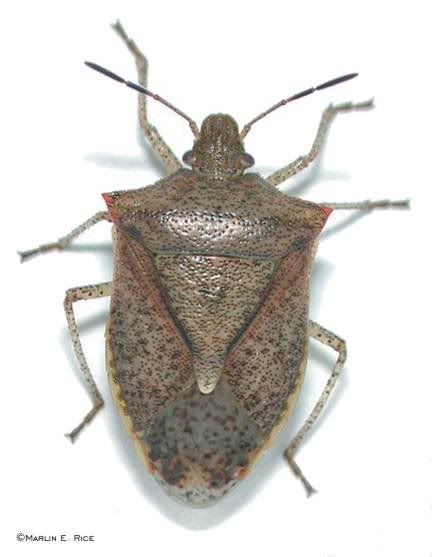 If you've not had the great fortune of knowing this bug here's a brief overview:
"The stink bugs that you see throughout the US are Chinese imports. They first showed up in Allentown, PA in 1996 through our ports in the US. They have been spreading all over the US in large numbers. Many people have seen them in their homes especially in the fall. They hate the cold and will look for shelter in your home from fall through early spring. Stink bugs also love bright lights. Most stink bugs in your home are females. They do not reproduce through the winter months and will not have off-spring in your home. Stink bugs must be outside for mating and need leaves to laying their eggs.
In the summer months you will see them clinging to your screens and crawling everywhere. They love to hide in curtains, laundry, lamp shades, closets, under tables and even between your mattresses. I have even heard reports of them crawling in shoes and you soon find out when you put them on your feet.
Why are they called stink bugs? Most people have the misfortune of finding out the hard way. If startled, they release an unbearable odor that can linger for 6 months, yes I said 6 months. Which is even longer that a skunk's scent.
They have a hard shell and look like something from pre-historic times. Stink bugs have invaded the east coast, mid-west, and Pacific coast. There are reports of them being found in cotton fields in the southeast.
These bugs can wreak havoc on a garden. Stink bugs love houseplants, fruits and vegetables. They cannot bite you because they lack the mouth parts for chewing,
but they can stab you with their sharp proboscis
which is used for piercing fruits and vegetables for sucking out the juices.
Right now the bug spray companies are still trying to produce a product that will kill the stink bugs, but with their hard amour it is difficult.
The best way to kill stink bugs is the drop them in soapy water. It will kill them instantly. If you vacuum them up, throw the bag out immediately away from your home. The scent of stink bugs will attract more stink bugs. Even their dead carcass will attract more stink bugs, so discard them outside away from your house. Do not bomb them. Stinkbug will just go in the walls or attic to hide. You will not kill them"
AUGH!! HATE EM! Everyone hates them! There's videos all over of people killing them in the worst of ways, tazers/cars/shotguns/etc. I've never seen any kind of bug that's taken over like this. It's awful, you lie down to sleep and "RAAAAAAAAAAAAAAAAAAAAAARRRRRRRR" there flies one across the blackness sounding like a junebug. Horrible!
Honestly, if you want to be a millionaire this is the time. Just find something that kills them and advertise it on tv like the topsy turvy. Just use that same format and I swear you will make millions. Personally I think if the product tortured it would sale batter, maybe a tiny little water boarding setup. That would be perfect!
Anyone else completely fed up with this bastard bug?