This is my assignment:
Write a menu-driven program that will allow the user to select 1 item from Chuckie's Kitchen Hot Sandwiches, 1 additional side order item, and 1 beverage. The program should compute the total and print the amount of the user's total bill (formatted to two decimal points). Implement your menu logic using either if /else if blocks or a switch blocks.
This is the menu:
http://i231.photobuc...itchen_menu.jpg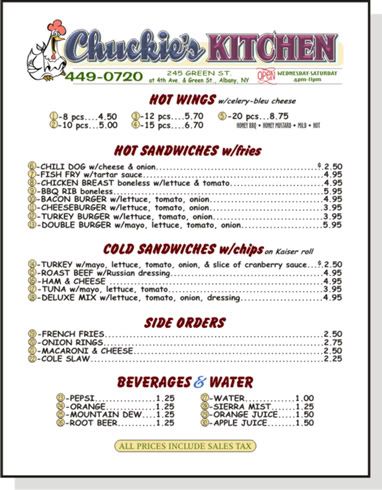 Here's my program, can you tell me how to fix it please?

#include <iostream>
#include <iomanip>
using namespace std;

int main()
{
const int MAIN_DISH = 8 pcs wings, 10 pcs wings, 12 pcs wings, 15 pcs wings, 20 pcs wings, chili dog, fish fry, chicken breast, bbq rib boneless, bacon burger, cheeseburger, turkey burger, double burger, turkey, roast beef, ham & cheese, tuna, deluxe mix

const int SIDE_ORDER = french fries, onion rings, macaroni & cheese, cole slaw

const int BEVERAGE = pepsi, orange, mountain dew, root beer, water, sierra mist, orange juice, apple juice


8 pcs wings = 4.50
10 pcs wings = 5.00
12 pcs wings = 5.70
15 pcs wings = 6.70
20 pcs wings = 8.75
chili dog = 2.50
fish fry = 4.95
chicken breast = 4.95
bbq rib = 5.95
bacon burger = 4.95
cheeseburger = 3.95
turkey burger = 3.95
double burger = 5.95
turkey = 2.50
roast beef = 4.95
ham & cheese = 4.95
tuna = 3.95
deulxe mix = 4.95

french fries = 2.50
onion rings = 2.75
macaroni & cheese = 2.50
cole slaw = 2.25

pepsi = 1.25
orange = 1.25
mountain dew = 1.25
root beer = 1.25
water = 1.00
sierra mist = 1.25
orange juice = 1.50
apple juice = 1.50




cout << "Enter an item: ";
cin >> MAIN_DISH;

cout << "Enter a side order: ";
cin >> SIDE_ORDER;

cout << "Enter a beverage: ";
cin >> BEVERAGE;


cin >> MAIN_DISH + SIDE_ORDER + BEVERAGE;

return ("pause");