Watches, smart watches, seem to be a slowly growing trend and becoming the new vogue area to branch into the realm of prefixing "smart-" on to.
Sure back in the day the pinnacle of 'smart(ish)-watches' was the Casio Calculator watch:
(which, oddly, you can buy on thinkgeek:
Casio Classic Calculator Watch
)
It was for the nerd on the go and was about three times more cool than a slide rule.
Though James Bond was shoving things in his watch all these years, the watches were lacking on the processing side. Just stun darts, garret wires, and, of course, freaking laser beams.
For a while now
Tokyoflash
has been providing super neat looking time pieces, but for all the glitz there is little in the way of 'smarts'.
Now it I am hearing things about metawatch, pebble, and so on. Crame small LCDs, some programmable apis, and off you go. The little puppies sync, and work in conjunction with, your phone to show you calendar events, caller id, and twitter feeds. After flipping through Scott Hanselman's blog post (
Smart Watches are finally going to happen - Pebble Watch Reviewed
) I may be a believer in this interesting trend popping up.
What is everyone's thoughts on this? Do folks even wear watches anymore outside of fashion, but less functional, statements?
I am on the fence about the whole rise, but that may be just my dislike of watches that has developed over the years.. See I used to enjoy watches until it became a sad task of trying to find one that fit my wookie wrists. Sure I _could_ get some different bands, but, by then, I wasn't just buying a watch - I was buying a project that will sort of look like the watch I wanted. Funk that.
Maybe if I hold out another year or two I can ride out this smart phone fad and cruise right into bad ass watch worlds!
Is there any special feature, excluding just telling time, that you would love to see on a watch? Any that are deal breakers for picking one up? Do revolutionizing the device that tells the time trip your trigger?
Side note - Image pulled from his site of what the pebble looks like in action: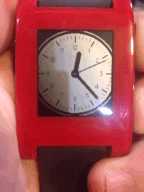 Metawatch:
Some smart watch product links:
http://www.metawatch.com/
http://getpebble.com/