I'm still in the planning phase of a lot of my systems/concepts, so I don't have any actual code to show you guys, more-so a concept I'm planning to use to "inject" updates into my game, and was
wondering if something like this would work as expected, if there would be a better way to go about it, or any possible flaws about the system I have in mind.
Basically the networking components and the actual game will be seperate systems. They will both be running concurrently but they will be unaware of each other. The thing is that the networking system will be receiving game state updates from the server, and these updates will need to be applied into various area's of the game(such as game objects, other players movements, messages in chat, etc.)
This is a basic outline of the system I have in mind....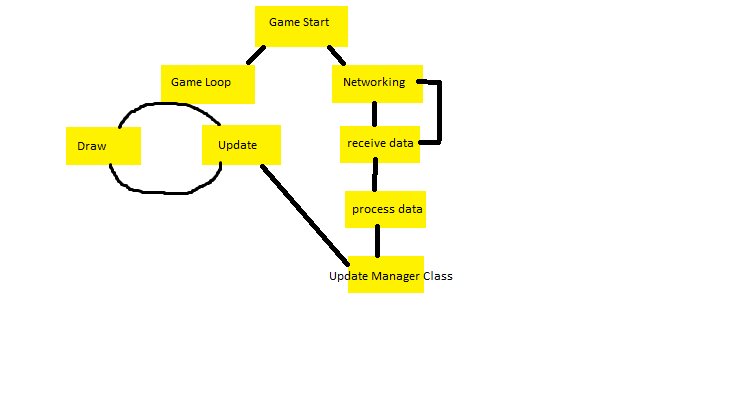 Breakdown-
The networking component just listens for data, when it receives data it passes it to a different networking class responsible for processing the byte data, it then returns to listen for more data.
The component responsible for processing the data will also be responsible for passing any relevant updates into a sort of "mediator" class, the Update Manager. The "Update Manager" gets called once every x seconds in the game's update cycle(still deciding on how often to "inject" updates). I plan to use synchronization here, in the form of locks. I plan to lock the data structures in the "Update Manager" when it begins its update cycle in the game loop, so the networking side of the game isn't corrupting data during the process(such as passing in new data while i'm iterating over it).
Do you guys see any potential pitfalls with this system? Do you think there would be a better way to do this? Any flaws with what I have in mind?