captainhampton

's Profile
Group:

Author w/DIC++

Active Posts:

597 (0.19 per day)

Joined:

17-October 07

Profile Views:

22,324

Last Active:

Apr 13 2015 11:08 AM

Currently:

Offline
Previous Fields
Country:

US

OS Preference:

Who Cares

Favorite Browser:

Chrome

Favorite Processor:

Who Cares

Favorite Gaming Platform:

Nintendo

Your Car:

Who Cares

Dream Kudos:

1575
Blog entries
Posted 02 August 2010
Another book pertaining to quantum computing which has been my "bible" so to speak in grasping a more in depth understanding has got to be Nielsen and Chuang's Quantum Computing and Quantum Information.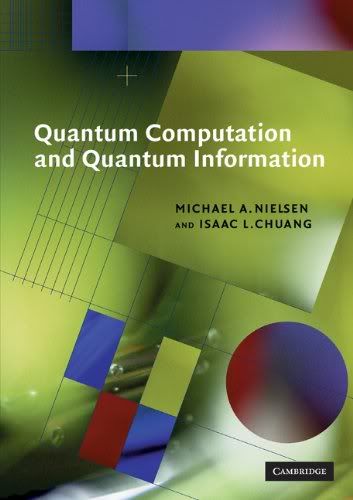 This is the definitive industry standard for obtaining a glimpse into the world of quantum computing. The authors introduce...
Posted 01 August 2010
Today I'm going to start a series of posts that recommend three of my favorite books for learning quantum computation. The thing I really like about these particular texts is that they are catered for individuals with a computer science background. Notions of quantum mechanics are delicately and elegantly introduced to the reader in a way to...
Posted 26 July 2010
Today I'm going to post a paper I wrote on the Deutsch-Josza algorithm a while ago. The practicality of this algorithm may be a bit contrived when observing the problem it solves. However, the problem itself is not of prime importance. In contrast the ability for a quantum computer to solve this trivial problem better than a classical one...
Posted 26 July 2010
I've decided to start a blog strictly dedicated to quantum computing. It's something I've been very interested in for a while and feel that blogging my progress, thoughts, and endeavors would be beneficial both to myself and to others who may also be interested in quantum computing.

One of the main reasons I stress the need for...
Posted 17 October 2008
Ok, I thought this would be a pristine place for me to document and organize my thought process for the development of various Nintendo DS games/apps which I have been toying around with. First project on that list is a vertically scrolling space themed shoot 'em up similar in style to that of
Tyrian
,
Raptor: Call of Shadows
, and
...
My Information
Member Title:

Jawsome++;

Age:

30 years old

Birthday:

December 7, 1985

Gender:

Location:

Detroit MI

Interests:

Quantum computing, quantum information science, programming, playing guitar

Full Name:

Vincent Russo

Programming Languages:

C, C++, C#, Java, PHP, Python, IDL, R, Ruby, etc.
Contact Information
E-mail:

Private

AIM:

captainhamptonsgs

Website URL:

http://https://cs.uwaterloo.ca/~vrusso/

Yahoo:

[email protected]