RCR

's Profile
Group:

Contributors

Active Posts:

33 (0.02 per day)

Joined:

04-July 12

Profile Views:

5,023

Last Active:

Aug 14 2012 01:20 PM

Currently:

Offline
Previous Fields
Country:

Who Cares

OS Preference:

Who Cares

Favorite Browser:

Who Cares

Favorite Processor:

Who Cares

Favorite Gaming Platform:

Who Cares

Your Car:

Who Cares

Dream Kudos:

50
Blog entries
Posted 13 August 2012
goo So I was bored and though, "Hmm...a Linux Distribution Wizard would be nice!" But I'm lazy(and tired) so I decided to give you some questions and have you answer them!

1) Have you ever heard of Bash? (Y/N)

2) Do you know how to partition a hard drive? (Y/N)

3) Have you ever dealt with programming in any language?...
Posted 08 July 2012
I'm going to be gone for a while, just thought I would let you guys know. About 2 weeks, I might try to stop in but it is doubtful I will.
Posted 08 July 2012
Honestly, I like Text RPGs better. What's your opinion?
Posted 06 July 2012
For you n00bs out there, I thought I would make a little post on one of the hugest mistakes PHP n00bs make. Encrypt passwords instead of hashing them on their website.
Epic Comic Explaining Encryption: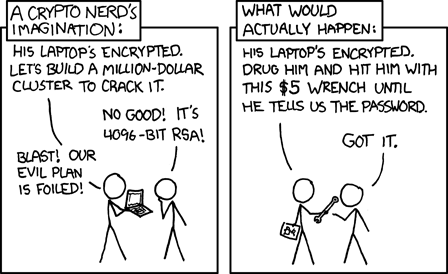 ...
Posted 06 July 2012
Lots of people have been asking me lately, "What is the best language to use to get a high paying job in the industry?". While most people would say C++ or C, I would say, "All of them, except Assembly". People would give me a dumbfounded look like I was insane. But honestly, in these times you really need to know everything to...
My Information
Member Title:

New D.I.C Head

Age:

Age Unknown

Birthday:

Birthday Unknown

Gender:

Years Programming:

17

Programming Languages:

Java, x86 Assembly, Python, Ruby, C, C++, Perl, Batch, Bash, SQL etc.
Contact Information
E-mail:
Friends