27 June 2009
8 Comments
Want to make your Java programs look better but without having to write a heap of code? Well I say "No more!" to this abomination and help you help your selves.Afte r searching around for a while for my own projects I come across three libraries which consistently grab my attention:
(This one doesn't improve the look but it's certainly good).
Jasypt:
(
http://www.jasypt.org/
)
Jasypt is a really easy to use library for encryption and decryption text, numbers, passwords, binaries and configuration file in a matter of 5 lines minimum.
License: Apache Software License, Version 2.0
Total size: 345.8KB
Docs: 8/10 - Full API documentation and well written tutorials and examples.
SwingX
(
https://swingx.dev.java.net/
and
http://swinglabs.org/index.jsp
)
SwingX is a Swing component extension library that frankly kick ass. It has tons of very useful components and since they're extensions, most of their API is very similar (if not the same) as normal Swing components with some extra spice to put on your plate. Here are some examples: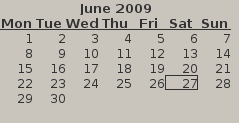 and much more!
License: Lesser General Public License (LGPL)
Total size: 1.4MB
Docs: 10/10 - All round greatness.
Substance
: (
https://substance.dev.java.net/
)
Substance is a look & feel library that has over 15 look & feels and is easily integrated with your Java projects. It has a lot of plugins for gui toolkits like SwingX, Flamingo, JIDE and a couple more. The look & feel's are brilliant and they can transform the way the user looks at your app in general (ye know, not just the visual kind of "look").
And they have plenty of screenshots and even a demo launcher so you can inspect it yourself (found here:
https://substance.de...va.net/see.html
). I highly recommend taking a look at it even if it isn't what your looking for, it gives you a window into what Java can do with look & feel.
License: Berkeley Software Distribution (BSD) License
Total size (with SwingX and it's plugin included): 3.5MB
Docs: 7/10
Balloon Tip
: (
https://balloontip.dev.java.net/
)
Balloon Tip is a nice and simple balloon tip component that's really easy to use. Depending on how you use it you may thing it's a load of rubbish but it's a nice component to keep around. Screenshot:
License: Lesser General Public License (LGPL)
Total size: 39.5KB
Docs: 8/10 - though it's a simple component, they do have enough documentation in the JavaDocs and the manual to get will get you on your feet with it very quickly and the demo app that comes with it is very handy .
Got some more libraries you wanna share or appalled I didn't include some? Comment, Pm or email me and I'd be happy to take a look
Thanks for reading!
Paul Kenny
8 Comments On This Entry
0 user(s) viewing
0 Guests
0 member(s)
0 anonymous member(s)