[I apologize in advance if this question is ridiculous]
First I'd like to know if IP Histories appear in the DTD header?
Example (numbers added in for effect):
<!DOCTYPE HTML PUBLIC "-//W3C//DTD HTML 4.01 Transitional//EN" "http://www.w3.org/TR/1999/REC-html401-19991224/loose.dtd"; IP HIS 12.442.552.55.442.552.55.442.663.1.114.221>

(If you do not care for explanations, do not read on, it's no problem!
)
As far as I know from what I learned in school, this is not possible, and also according to my friend who was in the same program, who is now into programming.)
The reason why I'm asking you all here today, (and a hearty hello to everyone, this is my first post here) is because some select youtube users are using this code against me in claims that I am IP traced to an account on youtube that is not mine. Even with me simply telling them that the Ip histories do not appear in DTDs didn't do a thing for them. (A little comical relief, but one of them tried to tell me that the view source code had nothing to do with html.)
I've torn this thing apart, stating how it's simply a view source code from a youtube channel with a few additional codes that were added in for effect. But still they persist to believe it's real, and have been convincing many others as well. I have nearly 3000 people watching my work and my activity in the community and it seems like they're trying to convince all of them.
Their apparent proof comes from a screen shot they took matching an IP they had in a forum I used to visit. My IP refreshes often, so I have no problem posting the screen shot. Their story was that they "hired a hacker" to hack youtube and view the IP history, which they did in a matter of minutes and boasted about it. I asked the accusers to send me the full notepad document, but I got excuses like "I can't find it" or "I must have lost it."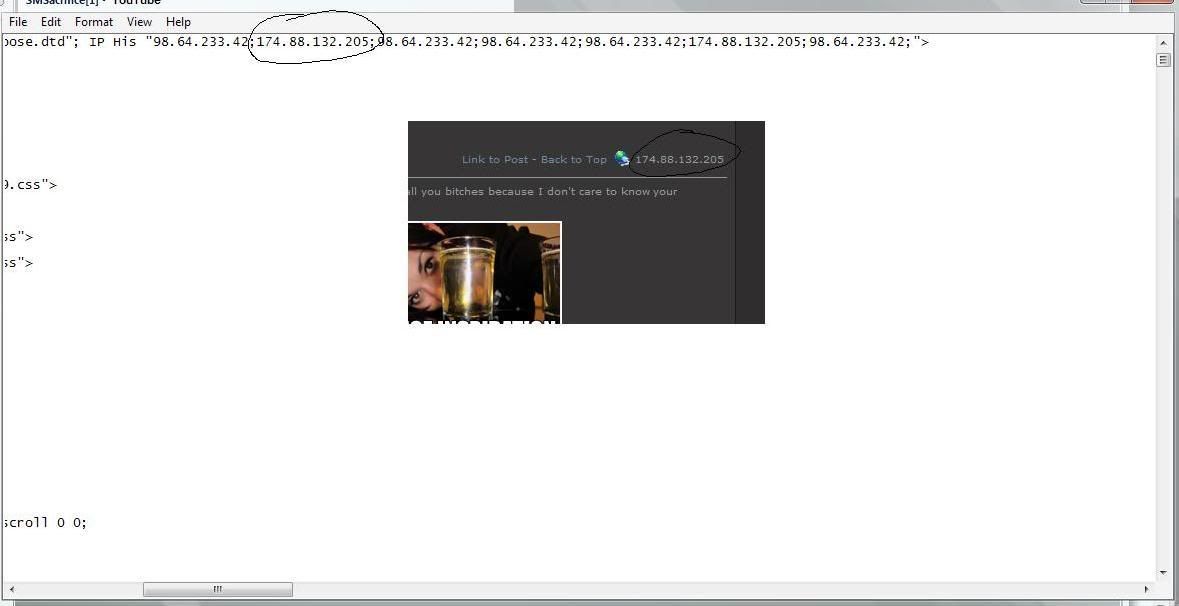 Again, I've done what I can to tear it apart. I've shown the HTML references, pointed out the dtd, and even the title of the notepad document.
Any varification would be a wonderful help to me. Simply coming from me and my friend isn't doing it for them, so why not go to the source of people who know what they are talking about?
Thanks for you time!