First off, I'd like to thank anyone in advance for the help I may or may not receive.
Now, I'd like to give some background. I have never created a program in which I read information from an XML file on the internet and then displayed it as a label in a form. However, this is something that I don't necessarily "need" to have done, however, it is something that I definitely would love to learn how to do and I "need" to know how to do it to finish the application I'm working on. This application was created for people at Xbox 360 forums to use to track certain things about another person's Xbox 360 gamertag, or even their own. However, you must know nothing at all about the "Xbox 360" or things that are related to it to help me with this problem.
Finally, I'm going to get to the issue -- The program that I am currently working on did look like this: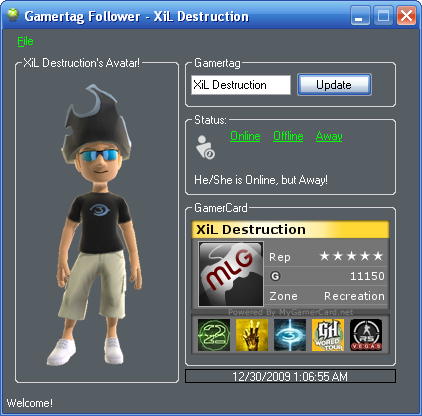 Although, after running across [
THIS
] amazing website, I turned it into this: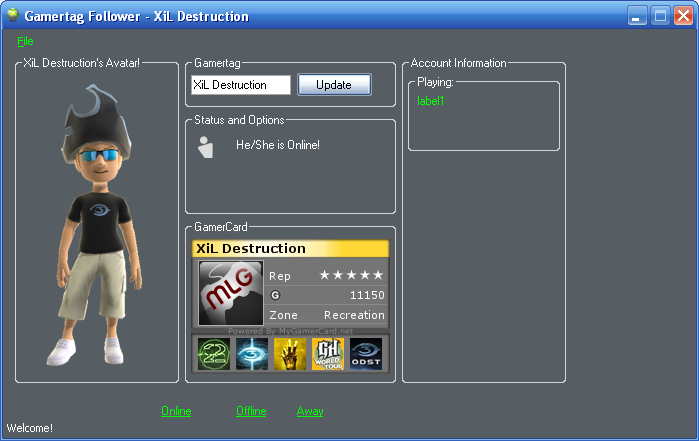 In that image, you should notice two things:
1.) Under the "status and options" groupbox, the "status" is actually fake and is activated by one of the links below.
2.) Under the "Last Playing:" groupbox, all you see is "label1," because I want to read the "<Info>" part of the XML file and put it on that label.
So, basically, I need to know how to read through XML files on the internet, parse through them to choose what I want it to read, and then apply whatever I wanted it to read to label.
Thanks again for all help provided!