So I'm currently trying to fix my friends sony vaio and I am completly stumped. I've had issues with blue screens before, however I've always been able to diagnose the problem, and successfully fix it.
First thing I did was run my UBCD pendrive with all the diagnostic tools on from boot.
Test #1 : memory. Memtest86 (and +) passed with no errors.
Test #2 : cpu. Temperature and Stress tests passed with no errors.
Test #3 : hdd. It currently has a brand new samsung drive, but I tested it anyway. No errors.
Test #4 : graphics. Video stress test passed with no errors.
Test #5 : cmos. Successfully cleared the CMOS with no errors.
Ok so after that I pretty much started running out of ideas. It will boot from hard drive into Windows 7, and will last a random amount of time before a blue screen appears forcing a reboot. Sometimes it can be 5 minutes, and sometimes it can be an hour. This is completely idle with no applications running and just sat at the desktop.
If I run a liveUSB running lubuntu, It will also last a random amount of time before displaying a kernel panic error. I've done some research into the kernal panic, and most seem to be hardware (RAM) issues, yet this RAM is passing all the memory tests.
After seeing the kernel panic message mention the CPU, I decided to strip down the laptop and re-seat the processor. This did not solve the problem, however I can confirm there is no debris build up in the fan/heatsink which means there should be no overheating problems.
Images of kernel panic when I ran a ubuntu live cd: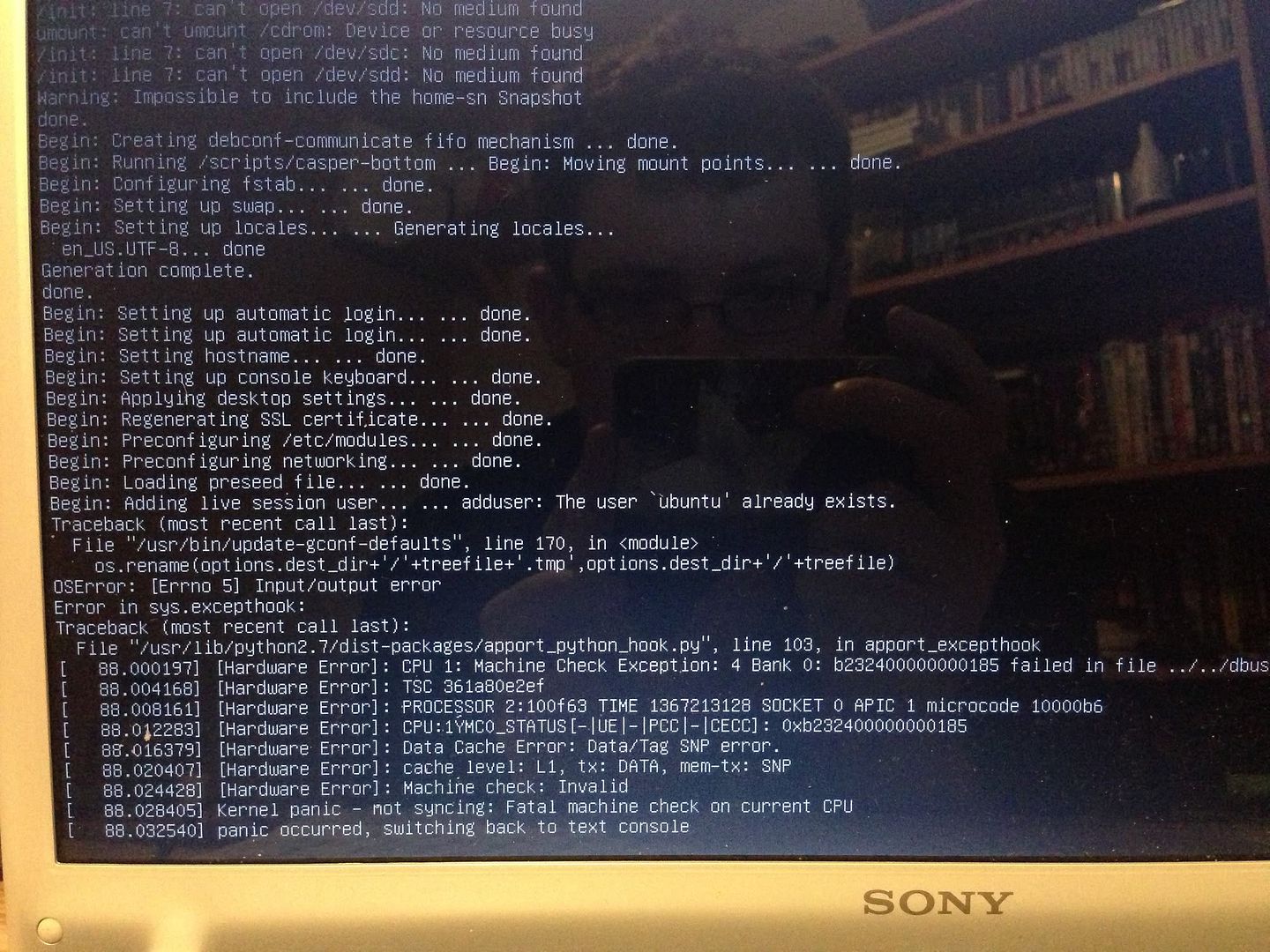 (I have no images of the blue screen due to it only flashing on and then rebooting).
Anyone any idea what's causing this error or how to fix it? Or is this lost cause?