I am writing a project to find prime number between specific range
here is the example: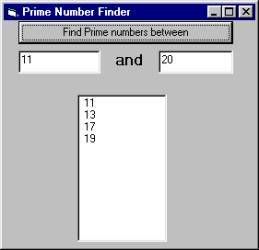 i use some for loop to search the number
and it can show me which number is prime number or not
but i don't know how to put my prime number into the list
here is what i can get so far.
can anyone help me? Thanks a lot
here are my code:
	Private Sub Button1_Click(ByVal sender As System.Object, ByVal e As System.EventArgs) Handles Button1.Click
		Dim a As Double
		Dim b As Double
		Dim c As Double
		a = Val(TextBox1.Text)
		b = Val(TextBox2.Text)

		For a = a To b Step 1

			For c = 2 To a - 1 Step 1

				If a Mod c = 0 Then

					Exit For

				End If

			Next
			ListBox1.Items.Addİ
		Next


	End Sub


can anyone tell me how to fix it?
This post has been edited by jayman9: 10 November 2007 - 02:57 PM