Hi guys,
To the best of my knowledge, I haven't come across this topic on this site, or anywhere else for that matter. If what I am about to ask has previously been posted then I do apologize and ask that you point me in the right direction.
I am in the midst of creating a website that requires information to be sourced from a database and when received, creates a post to the webpage that looks good rather than just formatted text or in a table. I'm thinking more along the lines of how facebook does this, where you create a status and it creates a "box" containing the post.
I know how to do the database queries etc, i just dont know how to make the new post, putting the content where it needs to go. Thinking how i would do it in other programming languages I'd ideally create a class/structure that would contain all the variables and create a new instance of it when needed. I just however haven't found a good tutorial for this in PHP hence my post.
Here is a picture of the idea I'm playing with where there are separate database records displayed like "posts" containing photos, titles, and contents.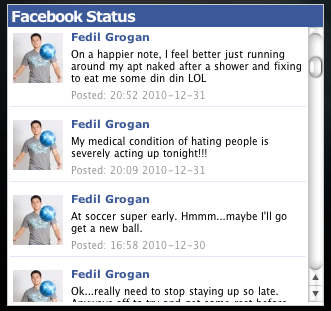 Any help in this will be so greatly appreciated. I am a little new to PHP so if you know of any sample code/tutorials that I can reference to do this that will be even better.
Thank you all in advance.