This is a tutorial on how to make melting text in GIMP.
Open a new file, Iím using 600px x 400px. Make sure there is a white background. Grab the color you want your text to be, and type out your words. Once you have it centered, go to Layer > Layer to Image Size. Once you do this you cannot change the text.
You image should look something like this:
Create a new layer and choose the pencil tool. Make sure you have the same color that your text is. Start drawing vertical lines down your text, where you want to melting droplets to be. Do this until your image appears like mine: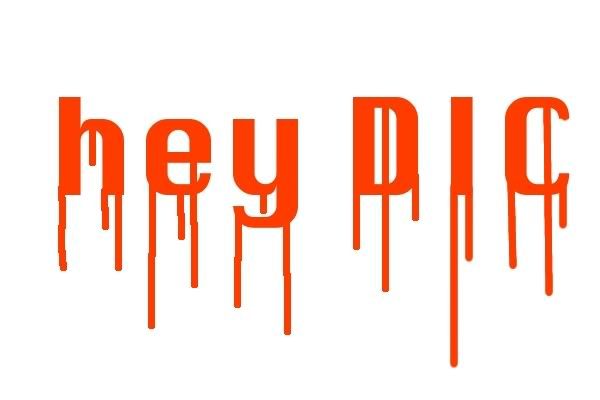 Once this is done, merge the layer down. Now go to Filters > Distorts > IWarp, and choose grow.
Deform Radius: 9
Deform amount: 0.26
All Work is done in the preview-window of this filter: Now first work on the area where the 'blood' is coming out of the text and running down. Click and hold your mouse down at the exitpoint of the blood of the text and make small circular movements. The hard edges look more as they would have been a part of the text. Repeat this for every line. The next step are the endings of the lines. They should look like drops in the end, do this with the same teqchnique as with the exitpoints.
After that use "shrink". Now shrink the middle parts of the lines so that they become much thinner. To do this move the mouse (while holding down the mousebutton) from top to bottom until you find it thin enough. It should be uneven to look real!
You should the have a result of something like that:
If you like how it looks like this, then you are done. If not, and would like to make it look even better, read on. It gets a little trickier, so if you need help just ask me.
Duplicate the layer with the text, and lock it. If you donít know how to lock the layer, you probably have no business continuing in this tutorial. Right click on the layer, in the dialogs box, and do Alpha to Selection. Now open the Channel Dialog Box, and create a new channel. Name it something you will remember. Select the channel, and then to go to Select > none, and add a Gaussian blur with these values: 10px, 6px, 3px, and finally 1px. Now make the channel invisible.
Now change to the layers dialog box, select the duplicated layer, and make the foreground #818181. Select Edit > Fill FG-Color. The duplicated layer should now be all gray. Next go to Filters / Lights / Lighting Effects. As bump map choose the channel we just created. Maximum height: 0.05.
Go to the material tab and make sure that the settings are 0.20, .50, .70, and 27.00. Click on the Light tab. We need to define two different lights. For the first light use these values:
Type: Directional

Color White

Intensity: 1


Direction:
X Y Z: -0.9 / -1.5 / 0.7
For the second light use these values:

Type: Directional

Color White

Intensity: 1

Direction:
X Y Z: 1.4 / 1.65 / 1.0
The layer should still be alpha locked. Apply the Gaussian blur 3 more times with it on 2px. Set the layer mode to hard light, and you should come up with something like this (hopefully a little better) :