One of our partners contacted me to let me know about a free offer for DIC members.
You can signup for 3 free issues of Linux Journal here:
http://dreamincode.t...e/lnxj/prgm.cgi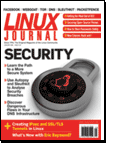 Quote
Linux Journal, first published in 1994, is the original publication of the global Linux community, covering topics critical to intelligent implementation of the Linux operation system.

LINUX JOURNAL covers topics critical to implementation of the Linux operating system. With its award-winning Linux how-tos, tutorials, reviews, in-depth reporting, tips and tricks, and market analysis, Linux Journal has become well-known as the industry standard.

Subscribe to Linux Journal today and you'll get 3 RISK-FREE issues as a free trial. If you wish to continue your subscription, you'll receive 9 additional issues (12 in all) for just $29.50. If you decide Linux Journal is not for you, write "cancel' on the bill, return it and owe nothing.

Geographic Eligibility: USA

Publisher: Belltown Media, Inc.