My book Beggining Game Programming is based in C but uses also Windows API.
As I'm about to finish the theory of C I want to learn Windows API separately, because the book describes it very shortly -despite the fact that it is reffered to a begginer- I found the following book but it seems to me like that API has tools for purposes that exceed game progamming.
Is it true?
If thats true it would be a waste of time, and i should get a book that learns you API for Game programming. Do you know any?
Programming Win32 Under the API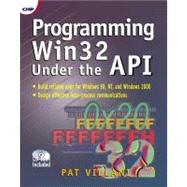 -----------------------------------------------------------------------------------
My Programming Activities on
my Blog
This post has been edited by Femolth: 21 September 2008 - 06:05 AM