Hello i have altered my method of displaying my data since my last post and instead of a listview i am now using a datagrid as i thought it would be easier to use for what i want.
I now am stuck in terms of i do not have a clue how i am going to display the rest of the data from my table?
What i need to have is when the user clicks on a row of data e.g. 'client' all records are show in the tabbed page area?
Picture :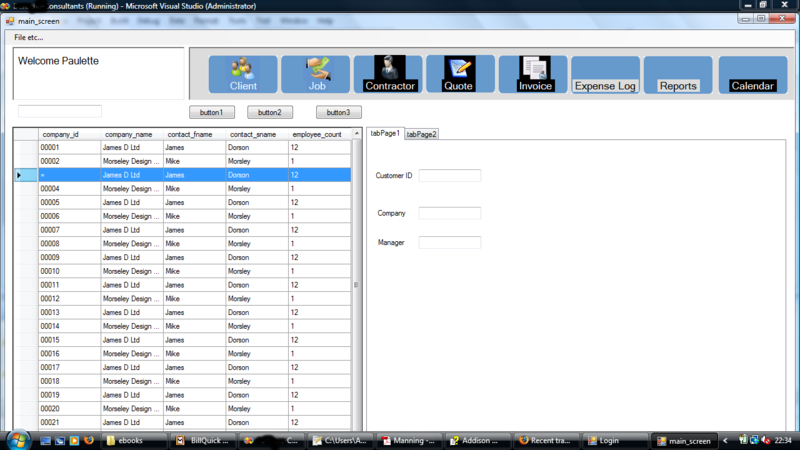 I have used a dataset to show the data when client is clicked but i dont think i can use that same dataset as it only retrieves four recods.
How can i have the four records displayed on one side of the page and then when highlighted display all infomation about the client in the seperat tabbed area?
My Code so far which displays client (when clicked) and contractor (when clicked)
using System;
using System.Collections.Generic;
using System.ComponentModel;
using System.Data;
using System.Drawing;
using System.Linq;
using System.Text;
using System.Windows.Forms;
using MySql.Data.MySqlClient;

namespace Deroche_Consultants
{
	public partial class main_screen : Form
	{
		string dataCategory = null;
		DataSet myDataSet;

		public main_screen()
		
		{
			InitializeComponent();	  
		}

		private void client_pic_Click(object sender, EventArgs e)
			{
				ClientDataLoad();
			}

		private void client_label_Click(object sender, EventArgs e)
			{
				ClientDataLoad();
			}

		private void client_buttonBox_Click(object sender, EventArgs e)
			{
				ClientDataLoad();
			}

		private void ClientDataLoad()
		{
		   // string dataCategory = client;
			string connectionString = "Data Source=localhost" + "; Database=_consultants" + "; User ID=root" + "; Password=password;";
			MySqlConnection MySqlConn = new MySqlConnection(connectionString);
			string strSQL = ("SELECT company_id, company_name, contact_fname, contact_sname, employee_count FROM client");
			MySqlCommand mysqlCommand = new MySqlCommand(strSQL, MySqlConn);
			MySqlDataAdapter myDataAdapter = new MySqlDataAdapter(mysqlCommand);
			try
				{
					MySqlConn.Open();
					DataSet myDataSet = new DataSet();
					myDataSet.Clear();
					myDataAdapter.Fill(myDataSet, "client");
					dataGridView1.AutoGenerateColumns = true;
					dataGridView1.DataSource = myDataSet.Tables[0];
					MySqlConn.Close();
				}

			catch (Exception ex)
				{ 
					MessageBox.Show("Data Load Error "+ex.Message.ToString(),
					"Error",MessageBoxButtons.OK,MessageBoxIcon.Error);
					MySqlConn.Close();
				}
		}

		private void job_pic_Click(object sender, EventArgs e)
		{

		}

		private void job_label_Click(object sender, EventArgs e)
		{

		}

		private void job_boxButtons_Click(object sender, EventArgs e)
		{

		}

		//====================================== Contractor ======================================//

		private void contractor_pic_Click(object sender, EventArgs e)
			{
				ContractorDataLoad();
			}

		private void contractor_label_Click(object sender, EventArgs e)
			{
				ContractorDataLoad();
			}

		private void contractor_boxButton_Click(object sender, EventArgs e)
			{
				ContractorDataLoad();
			}

		private void ContractorDataLoad()
			{
			   // string dataCategory = contractor;
				string connectionString = "Data Source=localhost" + "; Database=_consultants" + "; User ID=root" + "; Password=password;";
				MySqlConnection MySqlConn = new MySqlConnection(connectionString);
				string strSQL = ("SELECT contractor_id, forename, surname, availability, daily_cost FROM contractor");
				MySqlCommand mysqlCommand = new MySqlCommand(strSQL, MySqlConn);
				MySqlDataAdapter myDataAdapter = new MySqlDataAdapter(mysqlCommand); 
			try
				{
					MySqlConn.Open();
					DataSet myDataSet = new DataSet();
					myDataSet.Clear();
					myDataAdapter.Fill(myDataSet, "contractor");
					myDataAdapter.Fill(myDataSet);
					dataGridView1.AutoGenerateColumns = true;
					dataGridView1.DataSource = myDataSet.Tables[0];
					MySqlConn.Close();
				}
	
				catch (Exception ex)
					{ 
						MessageBox.Show("Data Load Error "+ex.Message.ToString(),
						"Error",MessageBoxButtons.OK,MessageBoxIcon.Error);
						MySqlConn.Close();
					}
			}

		private void button1_Click(object sender, EventArgs e)
		{
			Form2 addclient = new Form2();
			addclient.Show();
		}

		private void button3_Click(object sender, EventArgs e)
		{

		}
}
}

Thanks in advance,
C~Rose
This post has been edited by cobalt-rose: 30 December 2008 - 05:19 PM